Building Consensus for Early Success
DOWL prides itself on being the go-to firm to help clients navigate through controversial public projects. But what if there was a way to mitigate the controversy, build consensus for proposed solutions, and save time and money?
There is, said DOWL's Transportation Planning Sub-Practice Area Leader, Sarah Nicolai, P.E., based on her experience. It's the Federal Highway Administration's (FHWA) Planning and Environmental Linkages (PEL) study process, which DOWL has implemented for clients more than a dozen times, and has seen subsequent projects move through design and construction with reduced impacts and much less controversy.
"Our clients are trying to solve the community's transportation problems," said Sarah. "With a PEL study, relationship building is paramount, and is done by engaging the public and agency representatives in the planning stages, before an individual project is nominated to move forward to design."
Sarah said that prior to the PEL process, transportation projects were typically selected by looking at traffic models and geometric conditions to find the most expedient way to solve a traffic or operational problem. "It wasn't until a project was identified that the public and agency engagement would commence in earnest," said Sarah. "At times, unexpected environmental roadblocks or other fatal flaws would be uncovered, potentially killing a project or making it very costly to mitigate."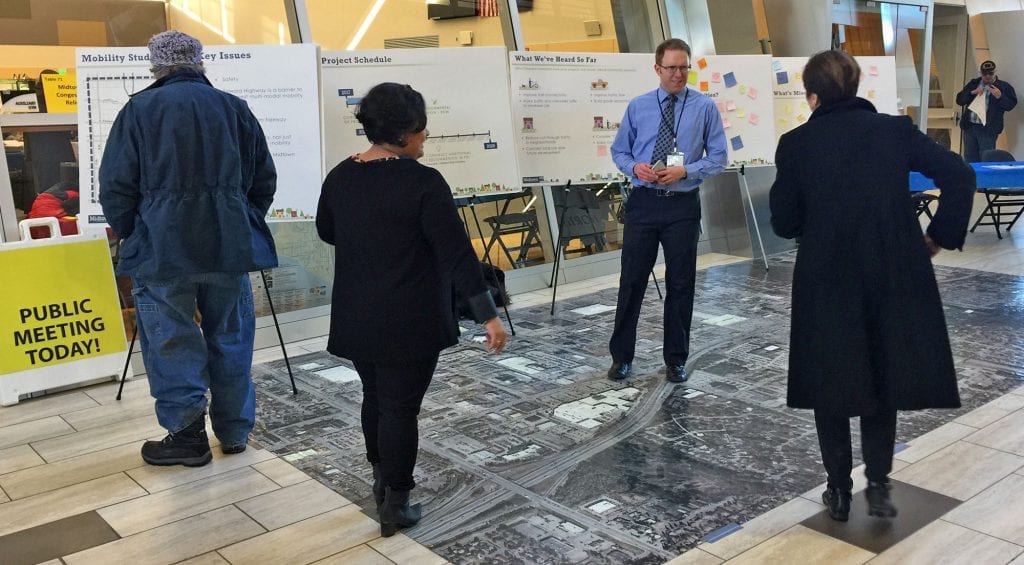 With a PEL, the wants, needs, and concerns of the community and agencies are gathered first. From there, projects within the study area are conceived and prioritized for funding and design.
DOWL has conducted numerous planning studies for the Montana Department of Transportation (MDT) and, in 2015,completed the State of Alaska Department of Transportation and Public Facilities'(DOT&PF) first PEL study.
Renee Whitesell is DOWL's leading Transportation Planner for two current DOT&PF PELs: the Minnie Street Corridor Study in Fairbanks, and the Midtown Congestion Relief project in Anchorage. She said it's not just FHWA-funded transportation corridor projects that can benefit from the process.
"It's really scalable," said Renee. "It works for any project that has a defined study area where a problem exists – anything from an aviation or surface transportation master plan to a large or small transportation corridor study. We can take the PEL process and apply it for a better outcome."
Renee said the DOWL team helps to solve identified problems within the study area by working with the client, agencies, and the public to come up with a range of options that have been fully vetted by all those affected. "In order for it to work, it has to be a process where you go in with an open mind," she said. "Predetermined solutions don't foster the type of collaboration needed."
Sarah agreed, and added that there is another step that is beneficial when working with multiple government agencies. "PELs are often more effective when permitting agencies and funding authorities formally agree to work together by signing a memorandum of understanding so that decisions have some weight," she said. "Proper documentation is also critical so decisions and agreements are honored later."
From this process, projects are born that have received early input from those affected. "While we still excel in work on high profile, controversial projects, it's a joy to work on projects that are met with public and agency buy-in from the beginning," Sarah said.
With a PEL, the wants, needs, and concerns of the community and agencies are gathered first.

In order for it to work, it has to be a process where you go in with an open mind.