OBEC and DOWL Announce Merger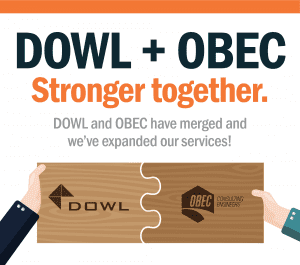 OBEC Consulting Engineers and DOWL have entered into a merger agreement after more than a year of developing closer ties, and recognizing the advantages for our firms and our clients.
OBEC and DOWL share similar employee-owned business models, overlapping geographies, complementary skill sets, and core values that shape their quality- and integrity-driven cultures. Together, we will bring an expanded range of services and a deeper bench of expertise over a broader geographic area. The merger also creates expanded career opportunities for our employees.
"This is a true Oregon success story," said Larry Fox, President of OBEC. "We started as a bridge engineering firm more than 50 years ago. Since then we've evolved to help public agencies solve a wide range of challenges they face. This is an exciting step in bringing our expertise to a broader region."
Our combined organization is 450 employees strong, with six offices in Oregon and 21 additional offices across Alaska, Arizona, Colorado, Montana, Washington, and Wyoming. DOWL provides environmental and land development, water/water resources, transportation, civil engineering, and geo-construction services. OBEC anticipates an active role for their transportation, inspection, survey, and environmental services in Oregon, and their bridge and marine services will form a transformative new practice area for the combined company.
"OBEC and DOWL are both client-focused organizations with top-notch staff," said Stewart Osgood, president of DOWL. "In addition to the added service lines and professionals we'll bring to our respective clients, the merger provides exciting new project and career opportunities to DOWL and OBEC employees."
The merger is expected to be completed by October 31, 2018.