DOWL Receives ISO 9001 Quality Management Certification
Following a rigorous audit of the company's Quality Management System (QMS) by British Standards Institute (BSI), DOWL is now ISO 9001 certified.
By having a QMS that meets the ISO 9001 standard, DOWL is accountable to maintain and execute a QMS that has a customer-centric approach, manages risks, promotes continual improvement, and ensures leadership commitment to the processes. DOWL is proud to be at the forefront of ISO certification for consulting engineering firms.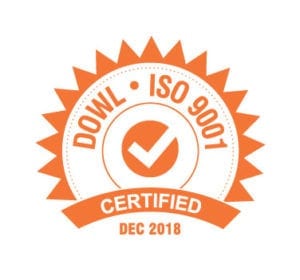 "DOWL has always focused on quality," said DOWL President and CEO Stewart Osgood. "ISO 9001 certification is simply an assurance to our clients that regardless of which office or project manager you work with at DOWL, there's a system in place that provides the framework for a high-quality product that has been through standardized review and a quality control process." Osgood said that there are relatively few firms of DOWL's size, that practice in the same fields, who have subjected themselves to this sort of auditing and outside scrutiny of their policies, procedures, and implementation. "We welcome the push toward continual improvement," added Osgood.
DOWL is a multi-disciplined consulting firm that has been providing civil engineering and related services for nearly 60 years. DOWL is 450 employees strong and has a solid western U.S. regional presence with 27 offices spread throughout Alaska, Arizona, Colorado, Montana, Oregon, Washington, and Wyoming.
For more information on ISO, visit www.iso.org.