DOWL and Farr West Engineering merge
DOWL and Farr West Engineering have joined forces to bring the best of both companies together. DOWL and Farr West managers know the success of the merged firm is founded entirely on continuing to put staff and client needs first. Under the integrated leadership, the combined entity will be 520 employees strong serving seven growing western states with 18 offices.
Why?
Farr West has been looking for ways to meet existing client expectations, deliver additional services, and expand into other geographic markets to provide continued growth opportunities for their employees. The merger with a firm like DOWL was the perfect solution.
For DOWL, Farr West brings strength and expertise to DOWL's water practice, adds electrical engineering to its line of services, and provides an opportunity for us to cross sell transportation, bridges/structure, environmental, and commercial development services to existing and future clients in Nevada.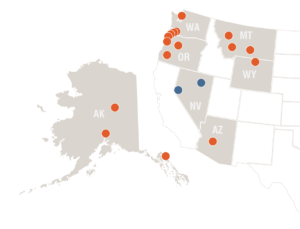 Combined Office Locations
Farr West has two offices in Nevada and brings substantial water services, land survey, mining, and electrical engineering expertise to the firm.
To find out more about our new partners, visit farrwestengineering.com. Look for a new, combined DOWL website in 2023.