A focus on health: DOWL gives back to the community with donations to Fisher House and St. Vincent Healthcare Foundation
DOWL is a manager-owned civil engineering and professional services firm that strives to build and maintain deep connections to the communities where we work and live.
One aspect of this is making significant donations at the corporate level on behalf of all our owners and employees. We strive to focus our corporate gifts on organizations that specialize in human services (including supporting U.S. veterans and service personnel), education, and community improvements, which aligns with DOWL's charter—positively shaping our world with exemplary professional service.
Recently, our DOWL offices presented gifts to two important charitable organizations: Fisher House and the St. Vincent Healthcare Foundation.
---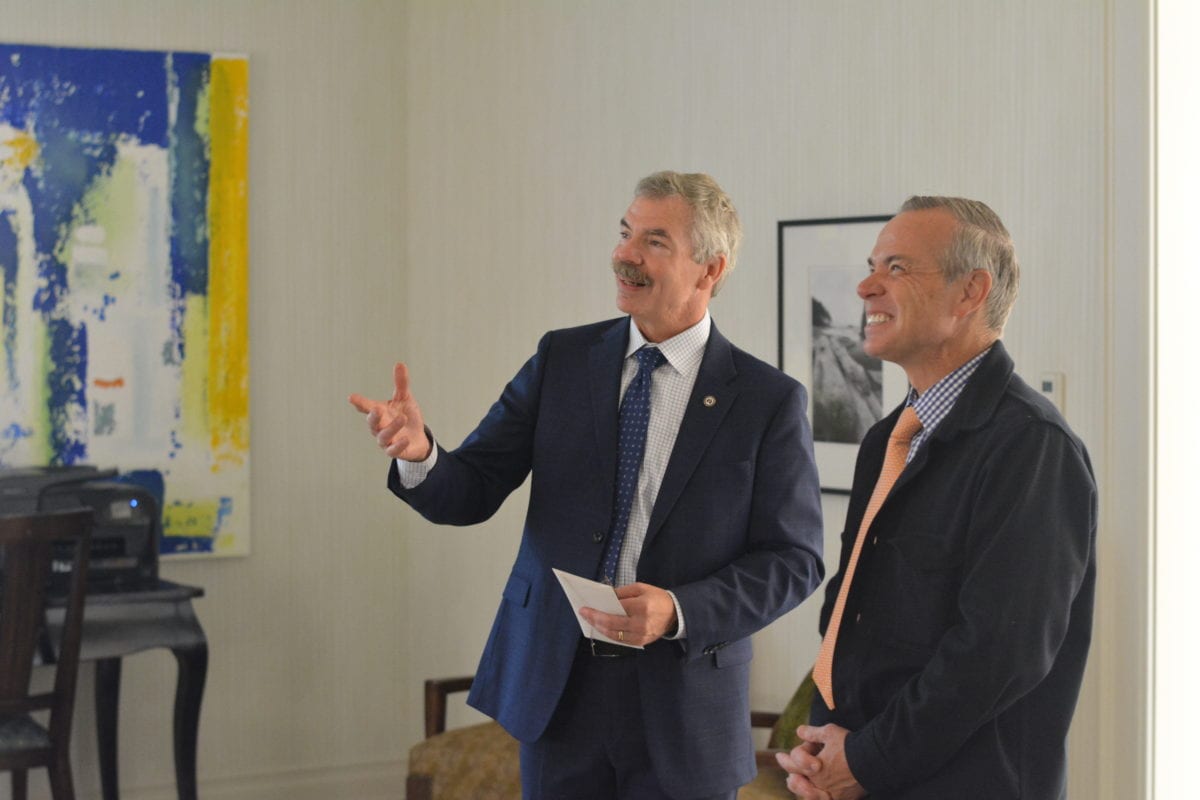 Fisher House
In seeking recipient organizations for our 2019-2020 corporate donations, a DOWL employee recommended Fisher House for consideration. The Fisher House Foundation aligns with our philosophy of philanthropy and provides services in many of the same communities where we have offices. Fisher House Foundation builds and maintains comfortable homes where military and veterans' families can stay free of charge, while a loved one is in the hospital. More than 80 Fisher House homes are located at military and VA medical centers around the world.
The nominating employee had a personal experience with Fisher House that highlighted the positive impact the organization has on service members, veterans, and their family members in our communities. Fisher House provided temporary housing for the DOWL employee's daughter when it was discovered that her newborn child had a life-threatening birth defect. The family had to leave their duty station in Japan and receive emergency treatment in Hawaii on a moment's notice, leaving with only what they had with them at that time. Fisher House provided housing and a sense of stability for three long months following the infant's birth and for subsequent surgeries, that all happened while the family was separated from their support network. The level of compassion and guidance that Fisher House provided during that time left an enduring positive impression on the family.
At the ceremony marking the donation, Vice President of Community Relations for the Fisher House Foundation Brian Gawne shared stories of how important their houses are. Each one serves local communities, but also draws families from hundreds of miles away. They face substantial, even insurmountable, travel expenses. Brian shared how some people would likely have to sleep in their cars if they didn't have Fisher House, and others would not be able to come support their loved ones at all. The Foundation estimates that Fisher Houses have saved military and veterans' families in excess of $450 million in out-of-pocket costs for lodging and transportation since the organization's establishment in 1990.
"Upon my visit to Fisher House I expected to see a bare-bones, utilitarian, government-issued dorm room that provides rack space for people that need a bed next to the hospital," DOWL President Stewart Osgood said after visiting the Fisher House on First Hill in Seattle. "What I observed was a lovely living space that gives veteran's families an oasis at a time of need. This is what they deserve and what we should expect to offer. The founder of the Fisher House commented that he wanted the families to feel as if they were staying with him at his family home."
DOWL is pleased to donate $40,000 to Fisher House in 2019 and has pledged another $40,000 for 2020.
---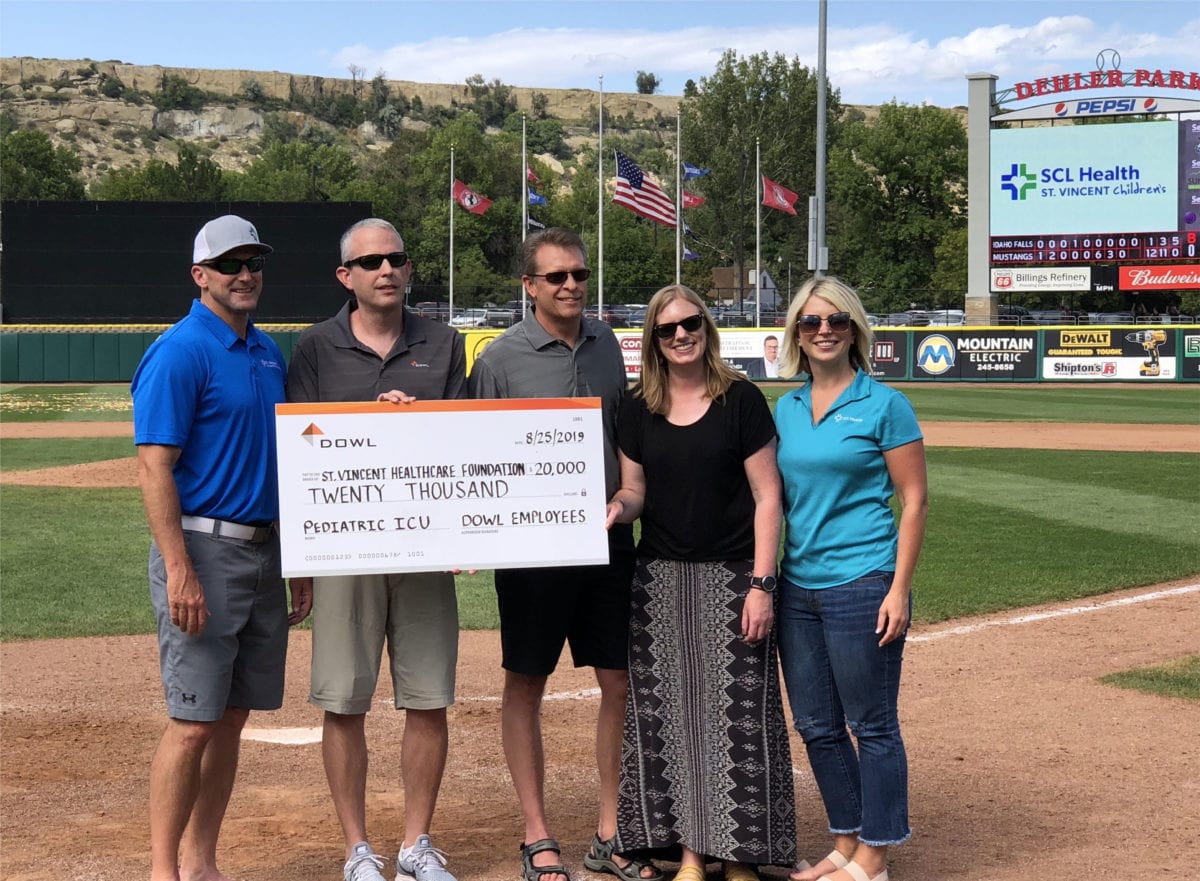 St. Vincent Healthcare Foundation
Employees from DOWL's Billings, Montana office recently presented the St. Vincent Healthcare Foundation with a check for $20,000 to support the pediatric intensive care unit (PICU). The goal of the program is to provide the best possible care for pediatric patients at home, saving the patients and families the trauma and expense of transfer when medical needs arise. "Thank you for an incredible day and donation!" said Senior Director of Development Nichole Miles. "You all are champions for children and keeping them close to home for medical care."
The check presentation was done by a handful of DOWL employees prior to the annual mega candy drop event at the Billings Mustangs' baseball game in front of a crowd of more than 3,000 people.
DOWL has a long-standing relationship with the St. Vincent Healthcare Foundation and we're honored to support the great work they do caring for our families and communities. The Foundation is committed to identifying opportunities to improve basic healthcare programs for healthier communities, with a special focus on vulnerable populations who lack healthcare.
---
We're honored to help these two important organizations that are working for honorable causes in our communities. For more information on Fisher House and St. Vincent Healthcare Foundation, check out the links below:
Learn more about these great organizations: