Reactive business development is costing you more than you thought
by Josh Grenzsund, Director of Business Development
"Not enough time." "Too expensive." "What's the point?" "It's just the way we do things."
Ask seller-doer project managers (PMs) and marketers about proactive business development (BD) and "getting ahead of things" with clients, and many times those are responses you'll hear. Instead, they do the opposite – responding to surprise solicitation after surprise solicitation at the cost of winning work. Over time, years spent in a reactive mode leads to a worn-down sense of purpose and an out-of-whack work-life balance. These are outcomes firms don't strive for, but nonetheless these are outcomes they achieve by allowing a reactive BD culture to take shape.
Reactive and Proactive BD Structures
Architecture/engineering/construction (A/E/C) firms can financially survive – even thrive – with either a reactive or proactive BD culture, but as professionals, we owe it to ourselves to consider which type of culture we want to be part of. To do so, you must first assess which one you're in. Most businesses have a mix, but one will usually dominate.
Reactive BD is most recognizable by "just in time" proposal preparation:
The BD structure is set up to only engage you at the time of solicitation publication (or later!), meaning forecasting proposal workloads more than two weeks out is nearly impossible
Proposals are filled with "boilerplate" content with the narrative focus on "us" (i.e. the proposing firm rather than the client or project)
A "commodity" approach dominates, with "here we are, hire us if you like our offer" as the primary sales message
Reactive BD can work well for single-discipline firms, niche services providers, firms in a sub role, or commodity service providers essentially bidding a job on fee rather than proposing on qualifications. Reactive BD tends to sideline marketing professionals to a role without much involvement or influence beyond the proposal production cycle.
Proactive BD is most recognizable by people striving to be a trusted advisor:
Proposal workload forecasting is never a certainty, but marketing staff and seller-doer PMs are engaging weeks or months ahead of solicitations
Detailed information about the client and the project dominates the narrative focus
Submission responses include a thorough, responsive technical approach accompanied by nuance and value propositions stemming from nuanced insights and genuine relationships between the proposer and client
Proactive BD is essentially account-based marketing, characterized by methodical segmentation, analysis, and curation of B2B relationships (both clients and vendors) to align a firm with the most sustainable, enjoyable, and profitable relationships. For service providers in a competitive market, this approach allows firms with narrow differences from their competitors to achieve the sustainable competitive advantage of being a trusted advisor.
BD Culture Costs: Financial and Cultural/Change
To drive the shift from a reactive to proactive approach, PMs and marketers must understand the costs of the approaches and assess if any incentive exists for change.
Financial Costs
The financial expense of shifting seller-doer PMs from billable work to overhead BD activities when there's no RFP to respond to is often the first and biggest objection – and not unreasonably. However, costs that feel like they have been "saved" by reactive BD are often hidden elsewhere, like in low hit rates/return on investment (ROI), employee burnout, and turnover. For example:
| | |
| --- | --- |
| Reactive BD | Proactive BD |
| Pursuits resemble sprints – high energy bursts in short periods. | Pursuits resemble long-distance runs – slower speeds over longer timelines. |
| (o) Overhead billing is limited almost entirely to "go" RFP activities | (o) Large portion of overhead billing occurs outside RFP responses |
| (-) Time investment produces a tangible result (proposal) and a definitive win/loss decision, but at a lower hit rate and lower ROI | (+) Time investment produces non-tangible results, such as rapport and trust (essentially client loyalty), with typically higher hit rate and ROI |
| (+) Can be serviced with mostly lower-salaried, less-experienced staff | (-) Requires experienced and skilled marketing professional staff with higher salary ranges |
| (-) Limits the value from marketing staff because of the expectation that only unsophisticated skills are needed to churn out proposals for years on end | (+) More experienced, higher salaried marketers provide increased value by helping a firm focus efforts on growth markets and profitable clients |
| (-) Often requires significant input from PMs in fire-drill activities to supplement less experienced marketing staff with less institutional fluency, lowering PM utilization and raising likelihood for burnout | (+) Seller-doer PMs get long-term, skilled BD/marketing partners who treat them like a valued (internal) client, raising their work satisfaction and helping build a portfolio of profitable clients and future work |
Cultural/Change Costs
A more imposing, hidden-in-plain-sight cost comes into view when people start to imagine and discuss how much typical hierarchical power structures and underlying norms and procedures in A/E/C need to be altered to transition from reactive to proactive BD. Reactive BD is the historical status quo in the A/E/C industry, with proactive BD a more emergent style based on the SMPS's vision of "business transformed through marketing leadership."
Reactive BD
Proactive BD
Billable work is perceived as "real" work, while overhead work aimed at winning work is seen as red ink across financial reports that must be cut and minimized whenever possible to shift minor gains back to the firm's bottom line
Overhead work is also viewed as essential "real" work that builds and sustains the business with owners, executives, PMs, and marketing staff all participating in marketing efforts to understand what clients need and how to provide it conveniently and profitably
Feels like "no-nonsense efficiency" because:

(+) Overhead billing occurs in bursts with a tangible deliverable

(+) Full-time marketing overhead employees (FTEs) are limited and generally in lower salary ranges

(-) In reality though, it effectively converts a larger share of billable FTEs (PMs) to temporary overhead FTEs; spending more time on losing efforts

Feels expensive because:

(-) Overhead billing occurs constantly with intangible results (trust, rapport, predictive analysis, purpose)

(-) It includes higher salary ranges of experienced marketing professional overhead FTEs

(+) In reality, it helps limit PMs' overhead work while increasing the value and impact of that overhead time; with higher proposal hit rates
The cultural and organizational gaps between reactive and proactive cultures are immense, and making a transition from reactive to proactive can easily take ten years or more. While that may sound daunting, the investment results in outcomes and returns that behave like compound interest.
A proactive approach to business quiets much of the unpredictability, allowing individuals and teams to focus and feel calm even in what would otherwise be stressful and chaotic environments. The non-financial and quasi-intangible returns have direct impacts on a firm's long-term resiliency, financial performance, and sustainability.
DOWL marketers, leaders, and PMs recognized the many costs of reactive BD, and implemented a phased approach to changing culture and procedures to become a proactive BD firm. It is difficult to sum up work-life balance and sense of satisfaction and purpose in a metric. However, DOWL's competitive QBS prime hit rate statistics are a very convincing proxy for the work experience, ROI, and financial benefits that PMs, marketers, and DOWL as a firm are enjoying as the culture evolves.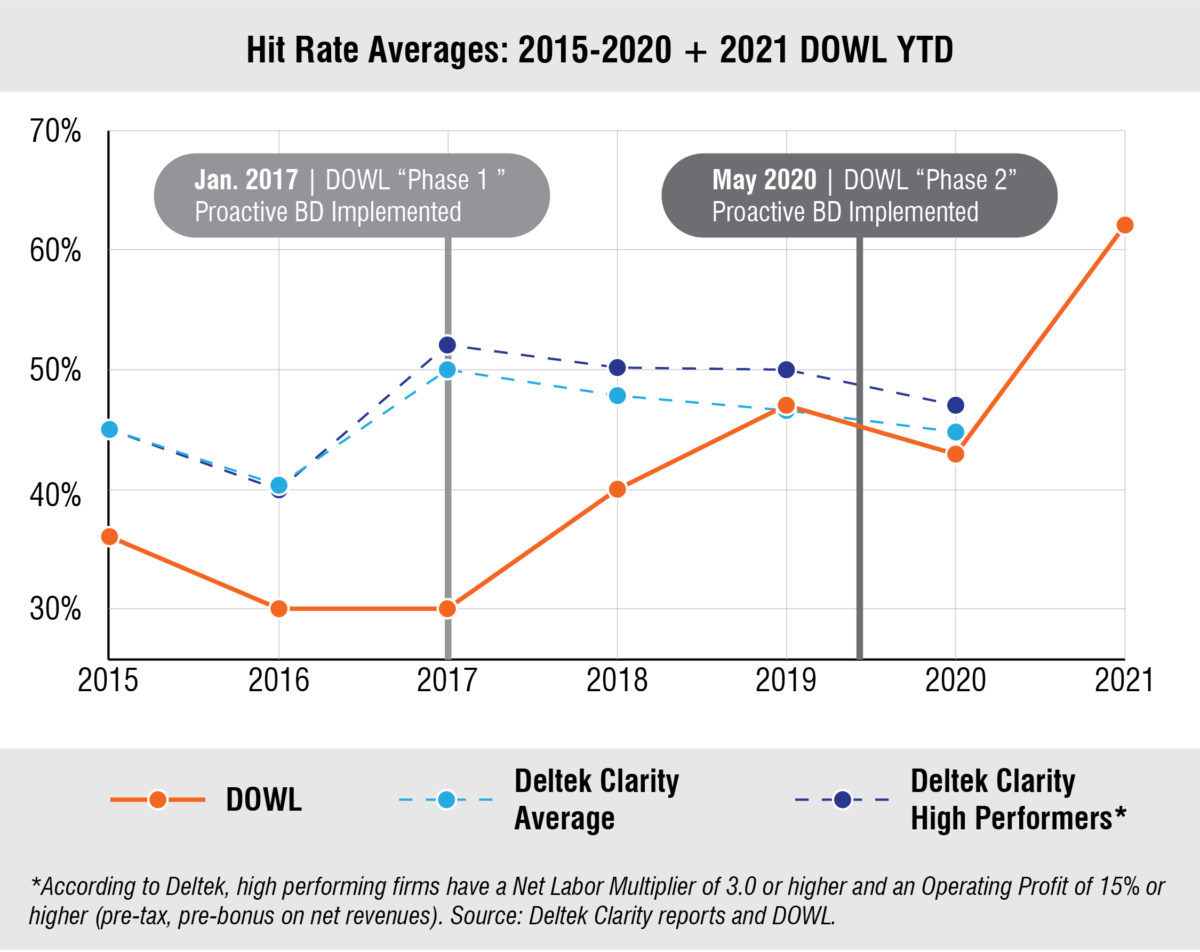 A reactive approach to business often includes a myopic focus on short-term costs and profits that define the purpose of your experience. In your career, do you want to see your purpose at work to make money (for a firm) or do you want your purpose to be to work for the success, care, and stability of your team, your clients, and your communities?
If you're interested in learning more about the resiliency, adaptability, and innovation unlocked by a proactive BD culture, or if you would like to learn about joining the DOWL team, contact Josh Grenzsund, CPSM, or Trissa Kelley, CPSM.